Luxury Car Detailing in St. Pete
With over 30 years of experience, CarLocker's in-house detailing team offers a range of professional services for luxury, classic, and exotic cars.
Mini Details
Our most economical and efficient option, typically completed within 4 hours for most vehicles.
Limited time offer
Save $25 off of your first mini-detail
Full Details
Restore your vehicle's appearance to it's original showroom condition. Typically completed within 1-2 days.
Ceramics
A two-day process comprising a comprehensive detailing and a ceramic coating application, ensuring your vehicle's protection.
Express Detail
Sports car: $195
Sedan: $225
SUV: $315
Exquisite exterior hand wash and dry

Extensive interior cleaning

Deep tire and wheel revival

Thorough door jamb cleaning

Interior surfaces wiped and shined

Trim and dashboard cleaning

Crystal clean windows

Gas door cleaned

Spray wax

Transform a slightly dirty car into a showroom-ready beauty in just 3-6 hours!
Full Detail
Sports car: $500
Sedan: $650
SUV: $750
Everything included in the Express Detail plus..

Engine bay degreased

Leather cleaned and conditioned

Stain removal

Revitalize floor mats

Two rounds of paint polishing

Full exterior wax

Upholstery and carpet shampoo

Headliner cleaned

Elevate your vehicle's appearance from ordinary to extraordinary in 6-12 hours!
The Absolute Best
Sports car: $1250
Sedan: $1500
SUV: $2200
Everything included in the Full Detail plus..

Steam powered cleaning

Claybar for removing paint contamination

Vent dust removal

Wet sanding- if needed

Paint correction- Buffing paint to remove swirls

Experience automotive luxury as we work our magic, turning your car into a pristine masterpiece in 9-14 hours!
PLEASE NOTE: EXOTICS, ANTIQUES, AND TRUCKS QUOTED SEPARATELY DUE TO UNIQUENESS OF EACH VEHICLE. PRICE IS SUBJECT TO CHANGE BASED ON THE VEHICLES CONDITION.
Mini Detail
Our most economical and efficient option
Thorough exterior hand wash
and hand dry
Thorough vacuum and wipe down of interior
Scrub of wheels, tires, wheel wells, brake calipers, and rims. Focusing on removing any brake dust.
Spray wax of the entire vehicle
Washing, scrubbing, vacuuming, wiping down, drying and wax is all done by hand.
4-8 hours of work done on the vehicle


Full Detail
Restore your vehicle's appearance to it's original showroom condition.
Steam Cleaning the interior
Leather Reconditioning
Paint Correction
Shampooing of Carpets
Buffing
Wet Sanding
Hand Polish
Hand Wax
Thorough hand cleaning of literally every nook and cranny inside and out, using Q-tips and toothpicks if need be!
8-12 hours of work done on the vehicle
Ceramic
A comprehensive detailing and a ceramic coating application, ensuring your vehicle's protection.
Hand application of AMMO NYC Ceramic
24 hrs of full curing
Climate controlled environment, ensuring the ceramic cures all at the same rate
UV Protection
Increased Shine
Extremely Hydrophobic
Dust Free, Controlled Environment
3 year warranty on the Ceramic
9-12 hours of work done to vehicle, plus 24 hours of recommended curing
What is a Ceramic Coating?
Ceramic coatings are advanced automotive protection products designed to safeguard your vehicle's exterior. These coatings utilize nanotechnology to create an ultra-thin, transparent layer on the paint surface. Unlike traditional waxes and sealants, ceramic coatings form a molecular bond with the paint, providing a range of benefits:
Long-Lasting Protection: Ceramic coatings offer durable protection against environmental contaminants, UV rays, and minor scratches, preserving your car's finish for an extended period.

Hydrophobic Properties: They create a hydrophobic surface, causing water, dirt, and grime to bead up and roll off, making your vehicle easier to clean and reducing water spot formation.

Enhanced Gloss: Ceramic coatings enhance your car's appearance, giving it a brilliant, high-gloss finish that turns heads on the road.

Chemical Resistance: These coatings resist stains from bird droppings, tree sap, and road salts, as well as provide resistance to chemical damage.

Reduced Maintenance: With a ceramic coating, maintenance becomes simpler, requiring less frequent waxing and polishing.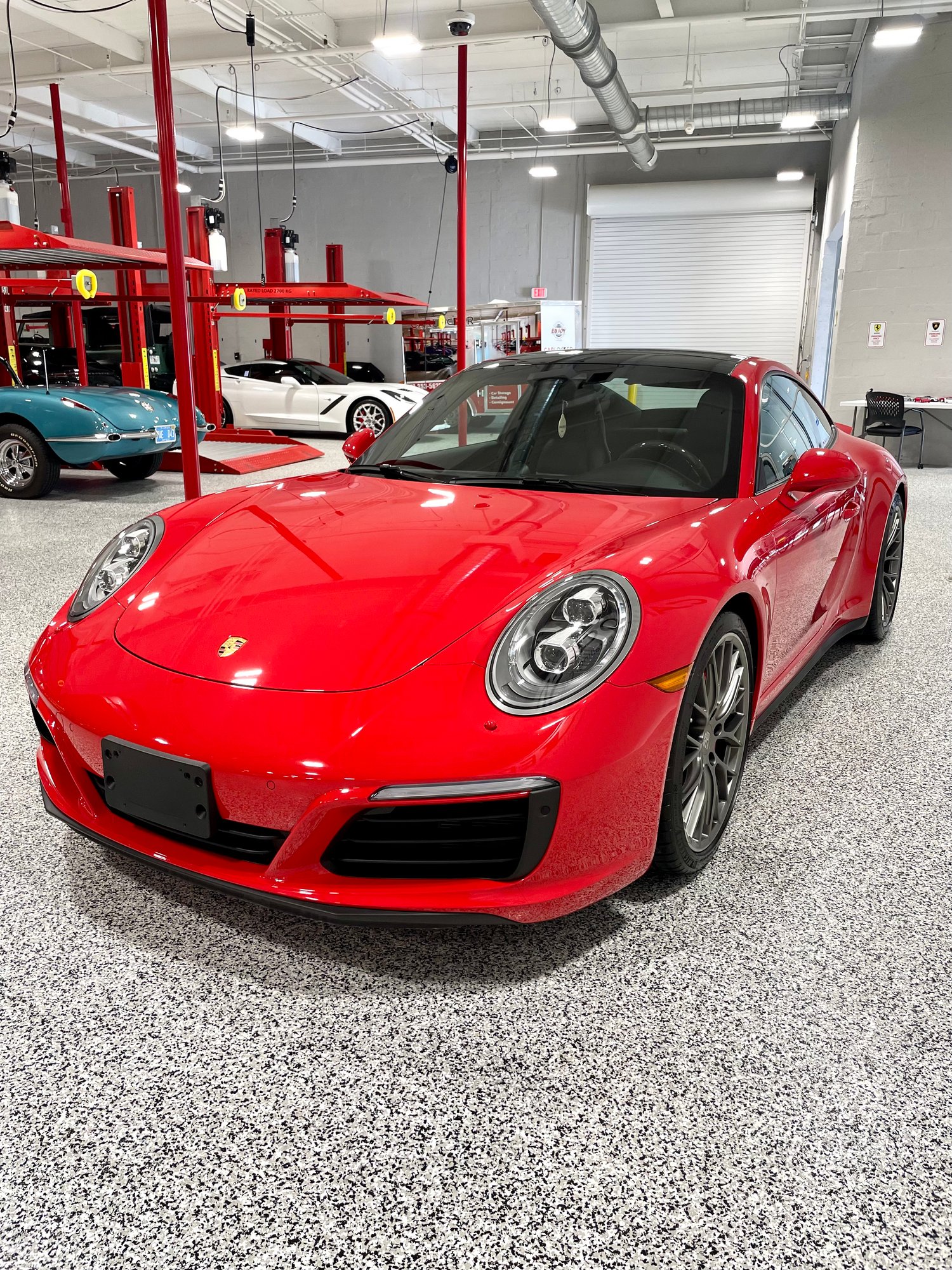 Ready to Transform Your Car's Appearance and Protection? Get Started with Ceramic Coatings Today!
Indoor, Dust-Free Environment:
Our facility provides a controlled and pristine environment, shielding your vehicle from external contaminants for top-notch detailing.
Expertise and Precision:
Our team of specialists brings +30 years of extensive experience and attention to detail to every service, delivering outstanding results.
Frequently Asked Questions
How long does a ceramic coating last?

With proper maintenance our ceramic coatings last 2-3 years.

Maintenance is exactly the same as a non coated car, however, abrasives will remove the coating. In other words, perform a healthy wash (when needed) with your favorite car soap. We are happy to provide recommendations for soaps and other

maintenance products.
How long does a detail take?

Express Detail: 3-6 hours

Full Detail: 6-12 hours

The Absolute Best Detail: 9-14 hours

Ceramic Coating: 9-14 hours
How do I make an appointment?

Give us a call at 727-353-5625 and we will work with you to find a day and time available.
Where is CarLocker located?

We are 5 minutes from Downtown St. Pete at 1900 13th Ave N St Pete, Florida, 33713
Here's what people have to say about us
Ceramics
What are they? How do they work? How much?
What are they?

- Ceramics are a clear, hard, hydrophobic cover for your clear coat and paint. It protects the actual paint, makes the car shinier, and makes it easier to clean.

- a synthetic/non-synthetic polymer that is applied to the exterior of your car as a liquid. It solidifies and creates a clear hard protective coat over your paint's clear coat.

- providing some protections from scratches, chips, dirt, and the elements like sea air.

- it's extremely hydrophobic so most times you can just rinse your car clean, and hand dry it. Instead of washing it every time it's dirty.

How do they work?

1. Your car has a layer of clear coat on the paint. Most scratches are in the clear coat.

2. Ceramics a hard clear layer of protection for the clear coat on your car. It's like an armor for your paint.

3. The ceramic fills in shallow scratches in your clear coat at times, making them disappear and ultimately making the surface of your car smoother, which in turn makes your car appear shinier.

Ceramic Maintenance

CarLocker will stand behind any of the ceramics that we do for 3 years, as long as our guidelines are followed.

Some of the guidelines include:

- Ceramic Maintenance Plan with CarLocker. We offer maintenance programs to keep a warranty on your ceramic. This is at minimum, one ceramic maintenance wash a month, to reinvigorate the ceramic with a ceramic shampoo and spray. Ensuring the ceramic retains it's hydrophobic, protective, and cosmetic properties.

- Only ceramic shampoos and sprays are used on the car. Regular soap can cause the ceramic to turn cloudy and be ruined.

- No automatic car washes. Automatic car washes are just not a good idea in general, but especially with ceramics. They cause swirls/scratches in the ceramic and paint and ruin it.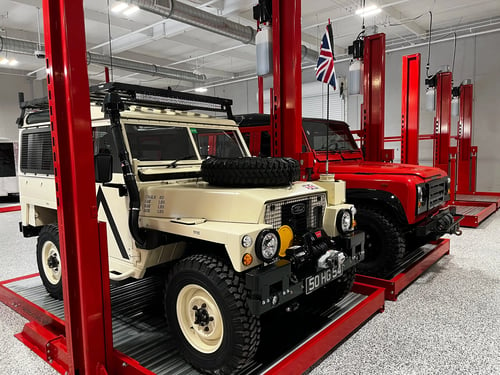 Also looking for a secure facility to store your vehicle that will take time to arrange maintenance and battery tendering? Contact us today to learn more about our premier storage solutions.